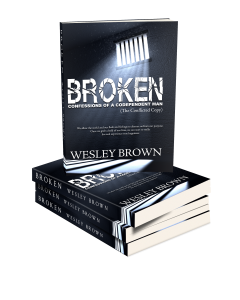 This book contains a collection of life experiences and what they taught me. If you feel like you could be codependent or know someone who is codependent, this book gives real life examples to study, reflection homework exercises to be completed, and new perspectives to adopt. Some of the topics covered include:
The roots of codependency
The symptoms of codependency
Learning how to forgive yourself
Learning how to love and be happy with yourself
Rebirth through rewriting your own story
Broken: Confessions of a Codependent Man is written for anyone who believes that they could be suffering from codependency.
Over the years, I was going from bad relationship to bad relation- ship. I was giving my all to my partners but I always ended up heartbroken. I was not able to figure out why all of my relationships were ending the same way. All of these different people were treating me the same way. It wasn't until my therapy sessions that I realized my failures in relationships were my own fault. I was playing the victim role, because I was the one getting hurt.
I spent the next two years identifying and understanding my codependent ways. I confronted them head on, making the proper adjustments in current life interactions, and making the harder choices when it came to relationship building. Moreover, I started off by working to love myself and make myself happy.
Through this journey, I learnt how to be happy with loving, respecting, and honoring myself first. As I began loving myself and making myself happy, I no longer felt like I needed the love and happiness of someone else to validate my own. Moreover, once I reached this point, I started attracting people of the same mind.
It has taken me many years, failed relationships, and broken hearts to come to this point in life where I am ready to be happy and live a fulfilling life. I came from a place where I was doing everything in relationships like cooking, cleaning, traveling, supporting, etc., while receiving little to nothing in return. I made it out of that dark place and now it is time for other sufferers from this behavioral disorder to come into the light as well.
This book is a unique, creative, and impactful guide to carry, use, and refer to along the road to becoming codependency-free and/or helping someone else in their time of need.
Broken's pages are meant to be written on, folded and highlighted. Together, we are going to work on your recovery. Together, we are going to save you from the mental ills of codependency. Together, we are going to win this uphill battle.
This book is a guideline and map to your true treasures in life. To obtain the most out of your life-changing investment of Broken: The Confessions of a Codependent Man, please:
Understand that EVERYONE moves at DIFFERENT speeds. Do not let the progress of someone else distract you from your own. What is for you, is for you, and no one else.
Be OPEN and HONEST with yourself about yourself.
Thoroughly read the chapters and complete the homework exercises.
Understand that this process may REMOVE certain people out of your life FOR GOOD.
Understand that you are the MOST important in your life.
Know that YOU HAVE the POWER to change everything in your life.
Know that YOU DESERVE true HAPPINESS out of life.